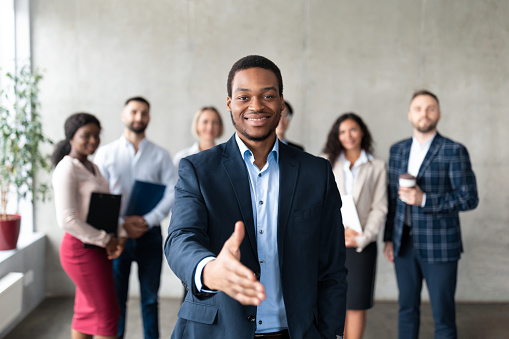 When you think of the first day on a new job, images of endless paperwork and some dry meetings might pop into your head. This may not seem like a big deal to you, but the onboarding process has a lasting impact on new hires.
Amy Hirsh Robinson, principal of the consulting firm The Interchange Group in Los Angeles, shared with SHRM that, "Onboarding is a magic moment when new employees decide to stay engaged or become disengaged." Here are a few tips for improving your employee onboarding.
Plant the Seed of Retention
Onboarding is the first impression a new employee has of your organization. According to The HR Digest, it is imperative that one gets it right. That an effective employee onboarding program ensures the short and long-term success of the new hire and your company.
A research brief by Glassdoor found that employee onboarding can improve employee retention by 82%. With poor onboarding, not only do you risk driving new hires away, but you risk wasting money.
If done right, the onboarding process can be effective, engaging, and a warm welcome for the new hire. It's highly beneficial to invest in this process since organizations with a strong onboarding approach improve new hire productivity by over 70%.
Onboarding From Their Preferred Device Anywhere
Onboarding a new employee can be time consuming when the process can only be done on a dedicated device in a single location. New employees often feel as if they're drinking from a firehose with all the new regulations, policies, and personalities the moment they enter a new workplace.
To solve this problem, the atwork app is cloud synced and OS agnostic. This will allow new members to engage with their team via desktop, laptop, tablet, or mobile devices from any location. Introduce your employees to important information and begin the onboarding process before they even arrive for their first day.
Automate to Save Time and Resources
Digitizing your documents can be beneficial to both your company and your new teammate. Having everything ready to sign within the app makes it easier to account for, easier to execute, and is easy on the paper!
By adding automation to the onboarding process, leaders can start the introduction to the business earlier. Getting new employees familiar with your company and how things work is important too.
Onboarding can be seamless by automatically delegating pre- and post-onboarding tasks. For instance, chat with a direct manager to schedule a team introduction.
Allow Each Person to Absorb Your Culture at Their Own Pace
By digitizing the learning experience through webinars and meetings, leaders can be consistent in the initial training journey. This lessens the chance for employees to be left behind.
With the survey feature, leaders can access insights into employee engagement throughout their onboarding experience, and even after it.
Improving employee onboarding can add value to your organization to the employee, in the long run. It can help with retention and productivity significantly. Give your new hires the welcome they deserve, and the high-quality onboarding the entire organization will benefit from.